Come join the Fishing and Hunting the NW Message Board
A great place to learn tips from other fisherman and
hunters from around the world

The fall Silvers start to heat up in Sept. and last into Dec.
1998 through 2004 all had huge runs of Coho on the Cowlitz and Lewis Rivers. It's not uncommon to hook 10 to 20 fish a day.

The fall Chinook start showing up in August and run into November. Battles with a Cowlitz king can often last a hour with fish reaching close to 50lbs.

2004 was another great year for summer steelhead with many days of limits by lunch time. Although we did not have the same numbers for 2005, this years run seem to hold allot of fish reaching 16lbs. For a hatchery summer run those are nice fish. Summer run starts kicking in about mid-April and lasts up to the end of September.

November through March is our Winter Steelhead time in S.W. Washington and that means your fishing the Cowlitz or the Lewis in search of that 20 pounder. Many fish between 20 and 29lbs. are caught during February and March on both rivers.

To experience the raw power of these fish and the shear numbers of acrobatic silver salmon that the Cowlitz and Lewis Rivers have to offer book a trip today.

Winter Steelhead----- Nov-Mar
Summer Steelhead---Apr-Sep
Fall Chinook-----------Aug--Nov
Spring Chinook-------Apr-Jul
Silvers------------------Aug-Nov
Sturgeon---------------year round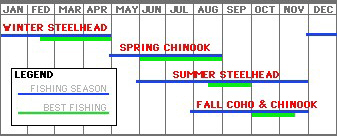 360 414-8698

Want a brochure

[PREV 5 SITES | RANDOM SITE | SITELIST | NEXT 5 SITES]

TeamFishHoo WebRing